Beauty Travel Finds
Traveling provides the opportunity to find local beauty products. Have you ever wondered what beauty products women use in other countries? Whether you travel to Europe or the Caribbean discovering beauty products used by local women is always fun as well as interesting. Where ever I travel the common question I ask when entering a shop or drug store is "what beauty products are common to the region"? The answer does not have to be expensive. It can be as inexpensive as Sunny Caribbee Natural Island Soaps found in Tortola, BVI or Durance en Provence Jasmin Gel Douche (Shower Gel) found in France. Of course some local products can be ordered online but since you are in another country why not purchase it directly from the locals who may also be able to provide you with additional local beauty tips. A special memory for me is that of visiting a beauty store in Paris and purchasing handmade soap and receiving a rose from the cashier when I left the store. These types of memories are priceless.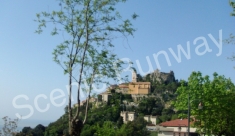 You need to upgrade your Flash Player
Scenic Runway Apps
are available from the Android Market on your Android Device!
Don't forget to check out Scenic Runway on Twitter.

Translator
Comments