Candy from Around the World
Recently on a long weekend beach get away I re-discovered the Rocky Mountain Chocolate Factory. I probably spent a little bit more time eating their delicious treats than I should have but I maintained my normal fitness routine during our getaway, which along with the sun, beach and laid back atmosphere made for a great getaway.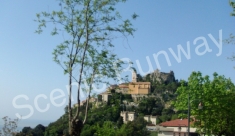 You need to upgrade your Flash Player
Scenic Runway Apps
are available from the Android Market on your Android Device!
Don't forget to check out Scenic Runway on Twitter.

Translator
A trip is never complete for me until I indulge a little in my passion for candy. I love candy and no matter where I am in the world candy is a must have. Whether I am in Printemps in Paris, Harrods in London, Dylan's Candy Bar in New York City or in an open air market in Málaga, Spain where I purchased jellied fruit flavored candy; I make it a point to taste some of the candy from where ever I am in the world. Sometimes the taste is familiar and other times the taste is new and different especially with chocolates. There have been times in which I have traveled within Germany and visited local markets in search of candy. My knowledge of the German language is very limited and needless to say searching for candy there was an adventure but I was successful.
Comments